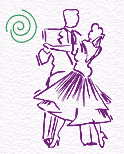 Styles of Dancing
Whether you just want to perfect your moves,
or learn how to dance in a fun place with great people, Dance Class Saskatoon! is a step in the right direction!
Smooth or Ballroom Dances - Nothing equals the elegance and the feeling of gliding across the dance floor with your partner to the sounds of a Waltz or Foxtrot. Experience the seduction of the Tango as well as the Viennese Waltz, Argentine Tango, & Peabody
Rhythm or Latin Dances - These reflect the rich history of their Latin roots. The Bolero, Salsa, Samba, Merengue, Mambo, Rumba, Latin Hustle, Lambada, Jive and Swing reflect the joy and abandon of tropical days and sultry nights. Happily these dances have been mainstreamed in recent years and nothing beats their intoxicating beat, liquid motions and visceral feeling.
Country Dances - Two Step, Polka, Waltz, Eastern Swing, Cha Cha, Western Swing, Swing Hustle (3 Count Hustle), Double Shuffle (Triple Two Step), Modern Waltz and Old Tyme Waltz
The Hustle brought partner-style dancing back into vogue among nightclub dancers in the mid-70's. Although music has continued to evolve, this style of dancing remains a fun and challenging discipline and has endured over the years. More recently, a resurgence of Disco music has seen a rebirth in the popularity of the Hustle. Please note that while the Hustle has come back, the leisure suit has not!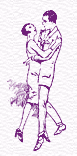 West Coast Swing is one of the sexiest ways of all to express your love of the Blues. It is partner dancing that's impressive to watch and even more fun to perform. This dance is frequently done to slower tempo Swing music.
Specialty Programs
Look for specialty programs that will be offered featuring Wedding Packages, Youth Programs and more.
Home | Contact Us | Styles of Dance | Dance Programs
Rates | Our Philosophy | Our Schedule
Walk In... Dance Out!
Please
click here
or email us at dance_class_saskatoon@hotmail.com
to tell us what you like about our classes
so we can share it with our other students!
And thanks for your comments!